Everything Cleveland Gear in one place!
HELICAL SHAFT MOUNTS & SCREW CONVEYOR DRIVES
Suitable for AGMA Class I, II, or III Applications
Belt Conveyor Shaft Mount Reducer
9:1, 15:1 and 25:1 Gear Reducers
Drop-in for TXT type shaft mount reducer
Input hp from 1/3 to 125.
Available in sizes 2-6
Screw Conveyor Reducer
9:1, 15:1 and 25:1 Gear Reducers
Input hp from 1/3 to 125.
Output Shafts and Screw Adapter Conveyor Kits available.
CEMA Output Shafts designed to mount CGUSM tapered/cylindrical bore
Helical Gearing — Carburized, case hardened, and ground.
Alloy Steel Shafts — Hardened and ground gear seats and bearing/seal journals maximize durability and extend operating life.
Double Lip Spring Loaded Shaft Seals — Prevent oil leakage in harsh operating environments.
Oversized Bearings — Ensure long and reliable service life in severe duty applications.
High Strength Cast Iron Housings — Precision machined to provide maximum support for all shafts. Drilled to accept mounting adapter for screw conveyor applications (sizes 2-6)
Available in sizes 2-10
MODULAR SPEED REDUCERS / M SERIES
Uncompromising Quality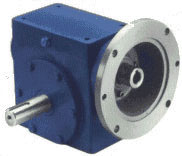 Modular Speed Reducers
Center distances from 1.35″ to 5.25″
Single reduction from 5:1 to
100:1 — up to 16 hp; up to 4608 in-lbs ouput torque
Double reduction from 38:1 to 3600:1
Guaranteed Flexibility
Hobbed Gears — no other method provides the accuracy and repeatability of hobbing.
Precision Ground Worms – efficiency and dependability are increased by precise, skilled craftsmanship and superior quality control.
Conservative Bearing Ratings – Bearing ratings exceed industry standards, increasing durability.
Generously Proportioned Shafts – Increased shaft diameter provides accurate and reliable support.
Heavy Duty Housings – Rigid housings protect gear sets under load, increasing longevity.