The Continental Commitment
HY-T® Wedge Torque Team® Belts
Tame your problem drives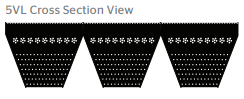 Part Number: 3/5VL800
3/ 3 rib joined construction
5V 0.62 in. top width - narrow profile rib
L Laminated construction
800 80.0 in. normal outside length
HY-T® Wedge Torque Team®
A narrow cross-section joined belt for higher performance and shock load applications ideal for pulsating loads, high capacity drives and/or short center heavy-duty drives.
Individual belts are joined by tough backing fabric
so all ribs pull together
Each rib wedges in the sheave groove for
maximum traction and efficiency
Vytacord® tension members provide predictable
performance over the life of the belt
Cushion rubber is a fiber-reinforced compound
contributing heat and oil resistance and
exceptional cord support
HY-T® Plus
Matchmaker performance
HY-T® Plus
Designed for operating at higher speeds over small diameter pulleys and short center distances. Ideal for use in multiple V-belt drives where high shock load and heavy-duty loads are encountered.
Key features & benefits
Universal Classical profile
High-strength Vytacord® tensile members.
Engineered rubber-impregnated envelope.
Engineered rubber compound cushion and insulation.
Dual branded (Classical and FHP part numbers).
Oil, heat, ozone and abrasion resistant.
Matchmaker® to eliminate mismatch.
Static conductive.*